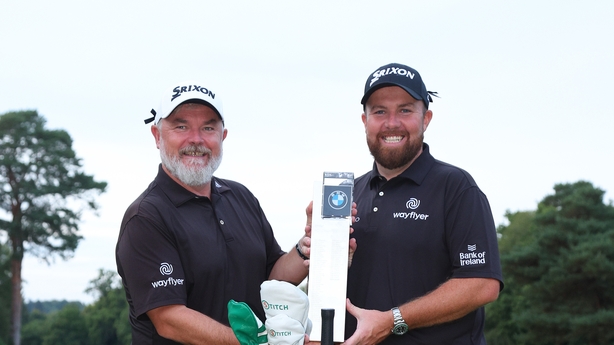 Shane Lowry is hopeful that his victory at the BMW PGA Championship will spur him on to success more regularly on tour.
The Offaly man emerged victorious at the prestigious Wentworth tournament, beating fellow major winners Rory McIlroy and Jon Rahm by a single shot to claim a sixth European title as a professional and end a three-year wait for a win since earning the 2019 Open Championship.
After his memorable win, the 35-year-old reflected on the achievement with RTÉ Sport's Greg Allen and said that after overcoming recent near misses, the target was now to become a winner annually.
"I've spent the last three years since Portrush, not beating my head against a wall, but trying my best to win and it's just not easy," he said.
"It's just not easy out here and anybody who thinks it's easy is silly. So I'm over the moon.
"You're out there and there's doubts going through your head because I was two ahead with five to play twice this year and I didn't win so if I didn't win today I'd be sitting back tomorrow doubting myself, second guessing myself and what do I need to do differently and what do I need to change.
"Thankfully I got over the line today and hopefully I can kick on from here now and hopefully I can start becoming a yearly winner. That would be nice. It seems like it's every couple of years but it seems like when I win, I like to win a decent size tournament, so this is another one to tick off the list."
Lowry also added that the potential to add the Ryder Cup points on offer for the victor were going through his head during the latter part of the tournament.
"I want to be front and centre of that team and I want to go to Rome and help the lads win the trophy back. That's one of my main goals for the next 12 months, so it's a great start this week," he said.
The manner of his win under pressure from two elite players also fed into Lowry's sense of achievement.
"(It's) a little bit surreal. I went out there against a couple of the best golfers in the world and I showed how good I can play the game and how good I really am," he said.
"So I can do nothing except take confidence from this. I'm proud at the way 'Bo' (caddie Brian Martin) and myself handled it out there. To play a tournament around Wentworth with no bogeys is fairly good, to be honest.
"I'm just so happy. I feel like the Open was a long time ago and to win again is great but to win a tournament of this magnitude is even better."
He added: "It's definitely in the top six or seven tournaments at the start of the year that you're looking at that you want to win and I managed to do it, so I'm over the moon. I'm so happy and I can't wait to get home and see the kids again, can't wait to go home and see [his wife] Wendy."
Lowry also paid tribute to the influence of caddie Brian Martin and felt he deserves credit for his year of steady progress.
"It's great for him as well. We've had a great year and we've had our ups and downs and we've had our falling outs but to win with a good friend on the bag is extra special," he said.
McIlroy was quick to praise Lowry, telling RTÉ Sport, "I'm incredibly happy for Shane, he's a good friend of mine.
"He's been knocking on the door a lot this year, the two that spring to mind are the Honda Classic and the RBC Heritage at Hilton Head, he had two great chances there and wasn't able to get over the line.
"I know he has always played well here, and this is a tournament that he would love to win, and obviously he did today.
"He was having a sneakily good year, even though the results mightn't haven't suggested it. But playing at home with him, seeing him out playing, getting himself into contention, I think it's as consistent as Shane has played in his entire career, which obviously bodes well for him for the future for Ryder Cup next year and beyond."
#WeGet People Red Chair Recruitment
Source: rte.ie