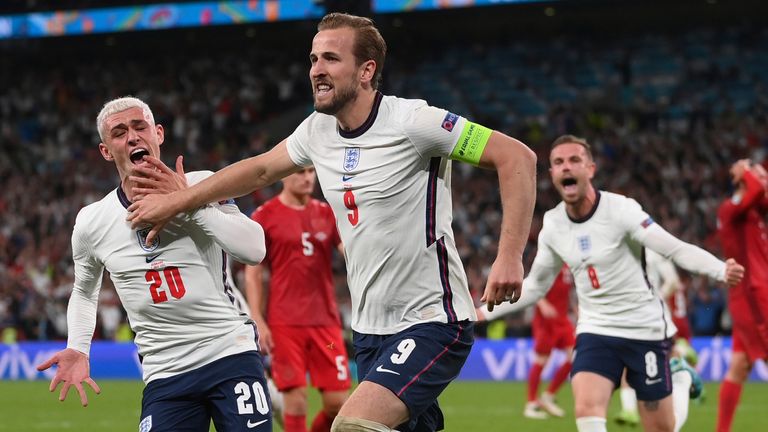 England's footballers are preparing to face Italy in the final of Euro 2020 on Sunday, knowing victory will earn them a first major tournament triumph for 55 years.
On a night of nerve-shredding tension, and then unconfined joy, Gareth Southgate's side beat Denmark 2-1 in front of more than 50,000 ecstatic England fans at Wembley on Wednesday, to reach their first ever European Championship final.
Captain Harry Kane hit the winner in extra time to book a place against the Azzurri at Wembley (20:00 BST kick-off).
If England win, it will be their first major tournament victory since winning the World Cup in 1966.
The final whistle was greeted by scenes of jubilation and celebration in towns and cities across England.
"I'm just so pleased for our country," said boss Southgate, who punched the air at the final whistle.
"We know what our country like others has been through and to continue that happiness and journey for anther four days, we're so happy."
England's ecstatic players celebrated on the pitch in front of their fans at full-time by singing 'Sweet Caroline' which fans have been chanting throughout the tournament.
"It was mayhem on the pitch at full-time," added Southgate. "As soon as Sweet Caroline was playing that was it."
Will england win?
Only time with tell if its coming home!