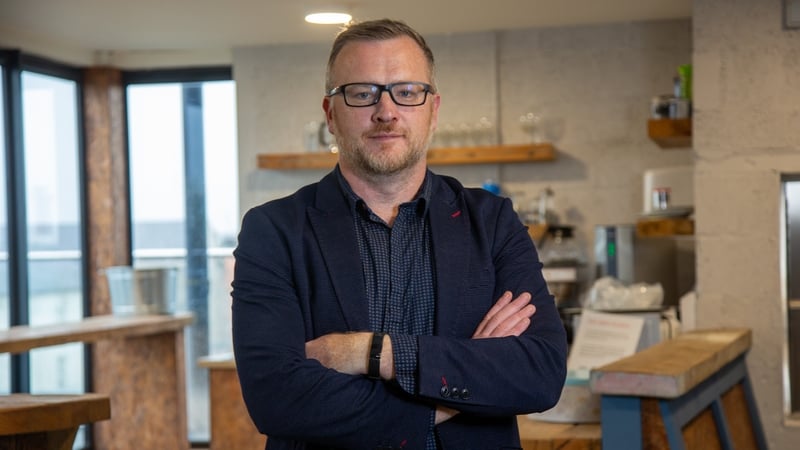 Small businesses and start-ups in the Kingdom are thirving with the help of collaborations in the three rural town hubs.
Kerry businessmen Ken Tobin and Tom O'Leary are co-owners of HQ Kerry. They established two hubs in Tralee town centre and one in Listowel.
Back in 2016 they were both thinking of starting a co-working space and decided to join forces and open their first hub in Tralee in September of that year.
"We definitely captured an opportunity in Tralee. There was a lot of people looking to establish a base in town and a lot of existing smaller companies that loved the idea of working in a collaborative environment," says Tobin.
Regional hubs have been transformative for local communities leading to job creation, talent migration, economic activity and innovation. Alongside alleviating urban migration and slower regional economic growth, these hubs have also contributed to a significant reduction in congestion and commute times, eased pressure on housing in cities and had a positive impact on climate change.
Tobin says he hasn't looked back since then.
"It absolutely took off and got massive traction," he continues, "and we got great support from the likes of Vodafone because it was one of the first gigabit hubs established in the country. This idea of having one gig of internet speed really appealed to people and they loved the environment and the feel of the place."
The demand was so high they had a waiting list which prompted the second hub opening.
"Pretty much as soon as the first one opened, we started planning the second one and we managed to secure another vacant building right across the street," he says.
Despite expanding into another building over the road, the hubs work in tandem creating a collaborative environment between the buildings.
"There is a lot of synergy between companies based in the hubs whether they are relocated companies from a different part of the country or abroad, or whether they are an individual remote worker, or even a local consultant, there is a lot of help and support there and they get a lot of business from working together as well."
One of the businesses based in HQ Tralee is analytics company Athena Analytics.
"We work with secondary schools in Ireland, mostly, we do software that tracks all of the exams of students for the purpose of identifying if a student ever dips below their own potential. It's individual to each student," explains Emily Brick founder of Athena Analytics.
"We are in over half the schools in Ireland now and we have just started working with schools in the UK as well," she says.
Brick initially started up the business as an analytics consultancy. She started working with schools on comparing their Leaving Cert results with National results and this is where she identified a need to track results.
"What kept coming up again and again was this need in the schools for ongoing tracking and they had no way at all to do it," she explains. "A lot of them were trying to do it themselves."
Brick started her business from her home in Barrow in rural Kerry after returning from Australia. With very poor phone reception and a limited internet connection she spent the first six months building her company from home until she became aware of a hub in Tralee town centre.
"I came into HQTralee and Tom showed me around and I decided to go for it," she says, "and I was set up the next day. I was fully set up, had my internet and was ready to go overnight."
"It made a huge difference straightway because straightaway I could start hiring, the hub just gives you that professional set up," she explains. "From the start I took a big office because I knew I wanted to hire someone straightaway."
"And now we have another two offices as well," she adds.
One advantage Brick feels she has from deciding to move into the hub, and scale her business in Kerry, is that she has access to a high calibre of people who are moving back to Kerry.
"You have less competition in terms of hiring them," she says. "I definitely have found that I have brilliant people that wouldn't be working with me if we were all in Dublin."
With the schools being closed and everything being done online, Athena Analytics was very busy during the pandemic. They needed to be online and with the poor connectivity outside the town centre there was little option to work from home.
"We really needed to get offices where everyone was on their own and HQ was so flexible with that, changing around our offices to accommodate us," explains Brick. "Obviously if I was in a leased office space, I'd be limited in terms of what we could do."
Another start-up from the HQKerry hubs is marketing consultants SevenWaves Business and Marketing Solutions which was founded by Patrice O'Mahony in February. Based out of the Listowel hub O'Mahony has already scored business contracts including looking after the sales and marketing for HQKerry and overseeing the rollout of their brand new website.
"It just made sense to have everything altogether rather than having all individual websites," explains O'Mahony. "Everything has come under the HQKerry umbrella and it can all be accessed from the one website. All the information and social media is combined now."
The new website was launched last month.
Since starting her business O'Mahony has been based in HQListowel – a mandatory move to build up a working network.
"Even though I live in North Kerry I hadn't professionally worked in North Kerry for a very long time," she says. "It was a great opportunity for me, even though it was during a pandemic, to meet new businesses and other like-minded people and hopefully it's good exposure for my own business."
"I guess I was a little bit worried as well that as I had always worked as part of a team and always been part of a busy office, I was a little bit worried it could be a isolating especially after the year we've just had, if I started my own business from my bedroom," she says.
"It just seemed like a natural fit and a good opportunity for me to get into a collaborative environment," she adds.
O'Mahony says that aving the hubs in the centre of the towns, instead of out in a business park on the edge of town, really gives a boost to the ecosystem of the town. It increases the opportunity for members to spend money within the town in the cafes, retail businesses and gyms which will benefit the local economy.
As a benefit to members O'Mahony is working on many partnerships with businesses around Kerry to showcase what is on their doorstep.
"We are working on a great partner programme and also to offer some perks to our members. For example we are working with local gyms in the area to offer discounted rates on gym memberships or personal training programmes. We are also working with a really great life coach to offer members competitive rates on personal and professional development consultations," she says.
They are also working with activity providers outside of the towns to give their clients a taste of a great work life balance.
Aside from co-owning HQKerry Tom O'Leary has been an advisor and mentor to many start-ups in the past. With two knowledgeable owners it's no surprise to hear that the hubs provide their clients with an array of resources to help them on their business journey.
"We offer workshops, talks and seminars," says O'Leary. "We bring in guest speakers for the tenants in the building but also the businesses that might be around the town as well."
"We do a lot of talks with AIB on financial management, credit control and those kinds of things. And because I'm based in there the clients would come to me for advice or bounce ideas off me. It has a very kind of informal approach to it," he says.
"And Ken, through his association with the chamber alliance, would be providing updates on supports in relation to Covid and update us in the restrictions as well."
"Because we have good connections to the Local Enterprise Office and Enterprise Ireland, we would provide good advice on what kind of grant supports might be available to them and how they could best approach the agencies themselves," he adds.
Source: rte.ie