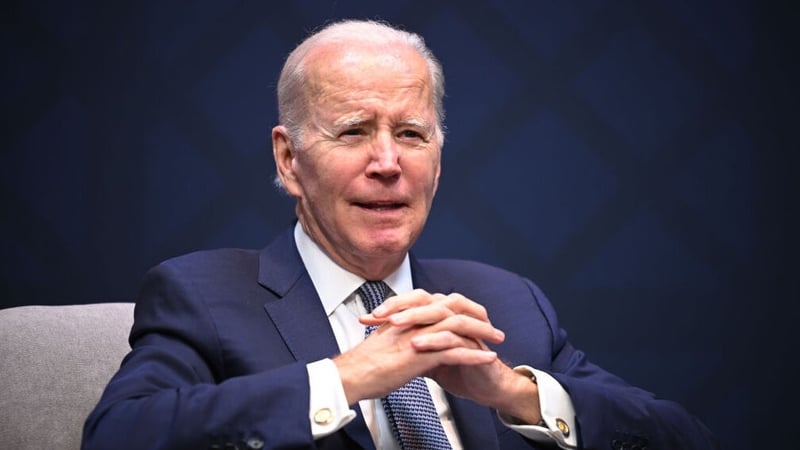 President Joe Biden has confirmed that he intends to visit Northern Ireland and the Republic to mark the 25th anniversary of the Good Friday Agreement.
He is expected to travel to a number of locations on both sides of the border next month.
No dates have yet been confirmed for the trip and the US President is not expected to travel on the actual anniversary of the Good Friday Agreement on 10 April.
It is understood the visit is more likely to take place the following week.
Taoiseach Leo Varadkar confirmed this morning that he intends to renew the invitation to Mr Biden to visit Ireland when he attends the St Patrick's Day reception at the White House.
There was intense speculation for months that President Biden was keen to visit Ireland to mark the 25th anniversary of the GFA.
Mr Biden was speaking after British Prime Minister Rishi Sunak formally invited him to visit Northern Ireland during a joint press conference.
It followed a trilateral meeting at the Port Loma naval base between the US, UK and Australia in California last night.
Mr Sunak said: "It's a great pleasure to be here. I look forward to our conversations and also importantly, to invite you to Northern Ireland, which hopefully you will be able to do and so we can commemorate the anniversary of the Good Friday Agreement.
"I know it's something that's very special and personal to you, we'd love to have you over."
Mr Biden replied: "Twenty five years? It seems like yesterday. Thank you."
Asked by reporters if he will visit Northern Ireland he added: "It is my intention to go to Northern Ireland and the Republic."
Speaking in New York last night, Tánaiste and Minister for Foreign Affairs Micheál Martin said he is looking forward to the visit next month.
The US Secret Service and US officials have carried out security assessments on several locations on both sides of the border in recent weeks.
Tourism Ireland said the visit will be a wonderful opportunity to showcase the island of Ireland to potential holidaymakers across the United States.
Niall Gibbons, Chief Executive of Tourism Ireland, said: "The visit…has the potential to deliver a major boost to Irish tourism in 2023 and beyond.
"A large media contingent will travel to Ireland to cover the visit, bringing the story to millions of people in the United States and elsewhere around the world and providing a truly unique opportunity to highlight the island of Ireland as a wonderful holiday destination."
Brenda Blewitt, whose father, Brendan, is Mr Biden's third cousin said she hopes he will visit the west of Ireland during his visit next month.
"I would love him to come to Mayo and I hope he factors it into his visit," she said.
Ms Blewitt added that there is always "good rivalry" between Louth – where President Biden also has ancestral roots – and Mayo.
Speaking on RTÉ's Morning Ireland, she said that Mr Biden was blown away by the crowds who came out to meet him in 2016.
Ms Blewitt added that a family lunch which was meant to last 45 minutes ended up lasting three hours.
"He was really interested in everyone and all we were doing," she said.
She added that Mr Biden is "very, very interested" in his family roots.
Source: rte.ie