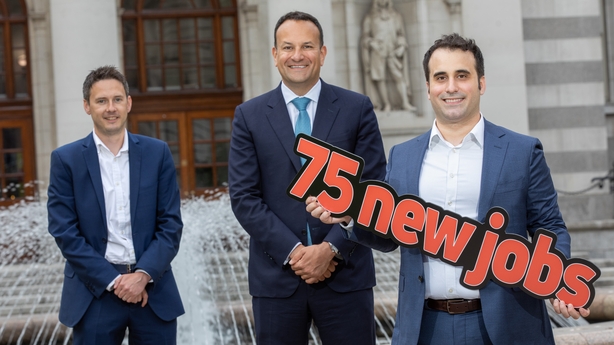 A technology company has today announced plans for 100 new jobs in Dublin and Cork, while a cybersecurity provider will also create 75 jobs in Tipperary and Dublin.
Technology company Qorvo has announced plans to create 100 highly-skilled engineering positions in Dublin and Cork.
Qorvo said the new jobs will support its global ultra-wideband (UWB) product research and development.
It expects to fill engineering positions over the next two years that span UWB radio system architecture and modelling, transceiver and baseband designs, power management, system on chip (SoC) integration, embedded software, physical design and IC characterisation.
California-based Qorvo bought Irish semi-conductor company Decawave in 2020.
The new jobs will be added to Qorvo's operations in Dublin as well as a new UWB R&D design operation planned for Cork.
Today's expansion is supported by IDA Ireland.
Eric Creviston, President of Qorvo Mobile Products, said that as UWB adoption is accelerating across mobile, consumer, Internet of Things and automotive markets, we are on the verge of the next big wave of innovation in wireless connectivity, much like Bluetooth was 20 years ago.
"Expanding our UWB operations in Ireland helps build on our technology leadership and expands Qorvo's world-class team of UWB experts, while leveraging Ireland's strong technology ecosystem," he added.
Martin Shanahan, CEO of IDA Ireland, said today's investment further enhances the reputation of the Irish semiconductor industry, adding to Ireland's already strong reputation in microelectronics Research and Development.
Meanwhile, cybersecurity provider Kontex has announced the creation of 75 jobs in Tipperary and Dublin.
Kontex are headquartered in Dublin, have a regional office in Tipperary and a growing international presence where they serve global and local clients with cybersecurity services.
Founded in 2015 by experienced security professional Patrick O'Callaghan, Kontex operates in Ireland, UK and the Netherlands providing cybersecurity services and solutions to Fortune 500 companies, private and public sector organisations.
"Kontex is on track to become one of the leading providers of specialist security services in Europe," Patrick O'Callaghan, founder and Managing Director at Kontex, said.
"We aim to expand our team to better meet a growing need to help enterprises solve complex cybersecurity challenges in a rapidly evolving threat landscape," Mr O'Callaghan said.
"We are actively recruiting for a number of roles which will be based in our offices in Dublin and Tipperary as well as hybrid / remote working opportunities to service our clients around the globe," he added.
Tánaiste and Minister for Enterprise, Trade and Employment Leo Varadkar said that recent events have been a stark reminder of the need to protect our digital information and systems, adding that businesses and organisations must always be one step ahead.
"Firms like Kontex provide leadership and expertise, helping us protect against cybercrime. These 75 new jobs in Dublin and Tipperary are a real boost and will draw upon the experienced pool of talent we have here in Ireland," Mr Varadkar said.
"I am particularly pleased that some of these jobs are in Tipperary Town as the town has really struggled in recent years. This is a sign of hope," he added.
Source: RTE.ie