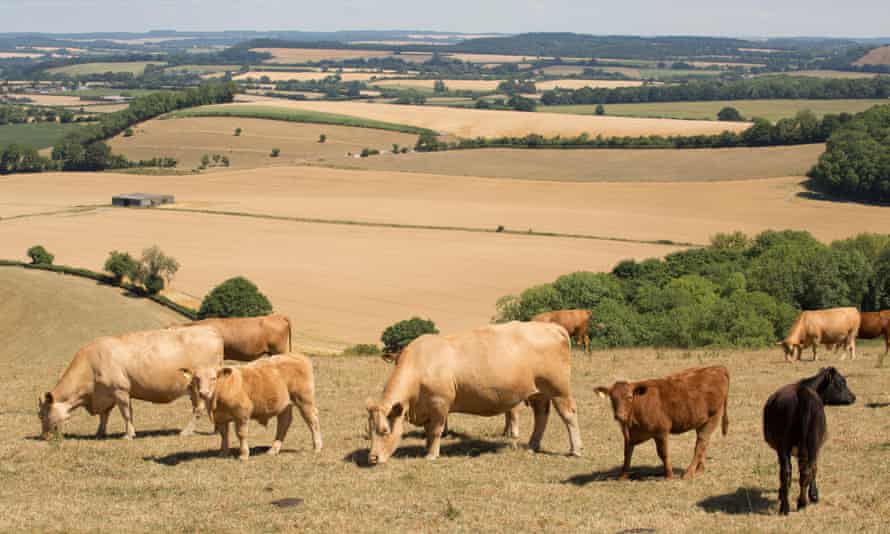 A new ten-year strategy for Ireland's food and drinks industry has been launched with the target of reaching €21 billion in agri-food exports by 2030.
Minister for Agriculture Charlie McConalogue said 'Food Vision 2030 – A World Leader in Sustainable Food Systems' outlined a sustainable way forward for the agri-food sector.
He told RTÉ's Morning Ireland that agriculture had been very well served in the past by ten-year strategies.
He said the new roadmap aimed to add a value to the food that we produce, in a way that benefits those who produce it.
Mr McConalogue said it examines both the economic and social sustainability of the agriculture sector, intertwined with the environmental sustainability of food production.
The only way forward, he said, is to be sustainable in everything we do.
Food Vision 2030 will be chaired by Tom Arnold, Chair of the Agri-Food Stakeholder Committee, who will give quarterly yearly updates to the Department of Agriculture on its progression.
Its key objectives include:
•making the whole agri-food process into a smoother operation
•increasing food exports from Ireland from €14bn to €21bn by 2030
•ensuring farmers can survive, as some are living off a €10,000 income which isn't sustainable
•climate action including herd reduction
•Stakeholders have committed to building a climate-smart, environmentally sustainable sector, with a goal of climate neutrality by 2050, and verifiable progress achieved by 2030.
Minister McConalogue, speaking at the launch of the plan, said: "The Committee, led by Tom Arnold, has produced a strategy that is balanced and credible, which identifies a significant opportunity for Ireland in moving to a position of world leadership in sustainable food systems.
"Ireland is the sustainable food capital of the world and the strategy underlines the important linkages between food and health and nutrition, and the fundamental importance of food safety and quality in achieving a premium position in key markets."
Irish Farmers' Association President Tim Cullinan said that while the publication of Food Vision 2030 was welcome, it "must be backed by Government investment".
"Incomes are currently unsustainable in the drystock and tillage sectors. The outcome to the European element of the CAP reform proposals will make this worse rather than better," he warned.
"What farmers want to see is what funding the Government intends to make available to back up this strategy," he added.
The President of the Irish Creamery and Milk Suppliers Association, Pat McCormack, said that the ambitions contained in the document were both notable and achievable.
There was "no doubt that export values could be grown to the ambitious levels set out in the plan".
Mr McCormack said the strategy was "crippled by our official inability or unwillingness to actually state categorically to the public that food prices must and will increase as part of that drive to become more sustainable".
The ICMSA President said this "lack of clarity is going to undermine that intent and ambition of strategies like Food Vision 2030".
Minister for the Environment Eamon Ryan said one "crucial element" is that the strategy must adjust to meet the Climate Action Plan being launched later this year, as well as other environmental measures which are being rolled out.
"This will be crucial in future-proofing Ireland's agricultural and marine sectors.
"I see this, along with other Government strategies, resulting in a new generation of farmers and foresters working the land in a sustainable way, with nature being restored, water quality improving, and premium prices being delivered for high quality sustainable produce."
Taoiseach Micheál Martin said: "Agriculture, food and the marine is our largest indigenous sector. It is engrained in the fabric of Irish society and is one of the main drivers of our economy, especially in rural and coastal areas."
He admitted the sector faces challenges "not least environmentally" but said Food Vision 2030 "crucially also charts a pathway for the future".
Friends of the Earth Director, Oisín Coghlan, described it as an "industry-led plan for agriculture that is not aligned with our international obligations on climate pollution, biodiversity and water quality".
But he welcomed that it "explicitly acknowledges that final targets for reducing agricultural pollution will be set under the new climate law".
Source: rte.ie