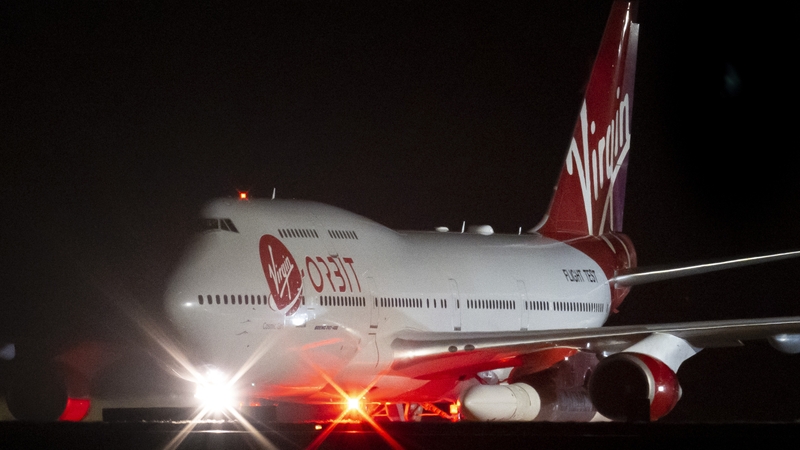 Britain's attempt to become the first European nation to launch satellites into space ended in bitter disappointment overnight when Virgin Orbit said its rocket had suffered an anomaly that prevented it from reaching orbit.
The "horizontal launch" mission had left from the coastal town of Newquay in southwest England.
Virgin's LauncherOne rocket was carried under the wing of a modified Boeing 747 called "Cosmic Girl", and later released over the Atlantic Ocean.
"We appear to have an anomaly that has prevented us from reaching orbit," the company said. "We are evaluating the information."
The Department of Transport had warned sea going vessels to stay out of an area of ocean south of Cork and Kerry, due to the fear of potential rocket debris falling from the sky.
The failure deals a further blow to European space ambitions after an Italian-built Vega-C rocket mission failed after lift-off from French Guiana in late December.
The rockets have since been grounded.
Europe has suffered a series of setbacks in the past year, with its key Ariane 6 launcher delayed, access to Russian Soyuz rockets blocked by the Ukraine war, Vega grounded and now a showcase launch for the burgeoning small launcher industry abandoned.
Virgin Orbit had initially said on Twitter that LauncherOne had reached earth orbit, a tweet it later deleted.
Matt Archer, Commercial Space Director at the UK Space Agency, said he and his team did everything they could to ensure the mission was a success, but that "ultimately, space remains hard".
Speaking on RTÉ's Morning Ireland, Mr Archer put the failure down to a second stage engine failure.
"What we know so far is that the first stage was successful, so it completed its burn off about five minutes. It accelerated off the south coast of Ireland over the Atlantic and all was looking well," he said.
"It became known about a minute or two after the first stage, so when the second stage engine was burning there was a technical anomaly of some kind, and in effect we saw it wasn't climbing to the right altitude it should.
"So it reached space, but didn't reach the Orbit required to maintain the necessary altitude and deploy the satellites. It was a disappointing end to the mission, but a massive success and triumph that we've been able to launch and demonstrate the UK can conduct launches from Cornwall."
Virgin Orbit, part-owned by British billionaire Richard Branson, had planned to deploy nine small satellites into lower Earth orbit (LEO) in its first mission outside its US base.
The mission had been heralded as a historic first for Cornwall, Britain and Europe.
Thousands of enthusiasts watching from beside the runway cheered when "Cosmic Girl" took off and when they were told the rocket had been deployed.
The crowd quickly and quietly dispersed following the announcement of failure.
A mission failure would be the second in Virgin Orbit's history since its first launch in 2020. The company has had four successful missions.
Mr Archer said they will work with the Virgin Orbit team to ensure they understand what went wrong.
"What we now know is that this was a technical issue rather than anything like lack of preparation or otherwise. Everything was normal. We done everything we could to give this the best chance of success. And ultimately space remains hard. Like these are always things that carry risk and unfortunately, the mission wasn't successful last night," he said.
Mr Archer said that because the rocket will continue to travel and will re-enter the earth's atmosphere, Virgin Orbit will continue tracking it to ensure any debris land safely.
He added, however, that he imagined most of it would break up in the earth's atmosphere.
He said that any rocket is a complex piece of technology, adding that Virgin Orbit have run four previous missions with the same rocket successfully.
"We'll wait to see what the review finds, but I'm expecting it to be a technical issue with the stage two engine," he said.
A graphic display on an official video feed showed the mission at second-engine cut-off, three steps short of payload deployment about two hours after take-off.
The war in Ukraine has highlighted the importance for tactical military purposes of smaller satellites, like those being launched from Newquay, which can get into low orbit at much shorter notice than bigger ones.
It was not immediately clear how the failure, which will have to be investigated, would affect the timing or location of future missions.
Virgin Orbit Chief Executive Dan Hart told reporters on Sunday that the company hoped to return to Newquay before the end of 2023.
Britain said it is the leading non-US manufacturer of satellites, with 47,000 people employed in its space industry
It has called for the development of multiple potential microlaunch sites including two vertical launch pads in Scotland.
The UK Space Agency had described the Cornish mission as a moment of national pride for Britain's growing space industry while Britain's minister for science, George Freeman, told Reuters at the spaceport that it was a "historic moment".
"Lots and lots of things have been achieved and yet the milestone is obviously disappointing," Mr Archer said.
"But we will continue to press on and we will get there in the end."
Source: rte.ie