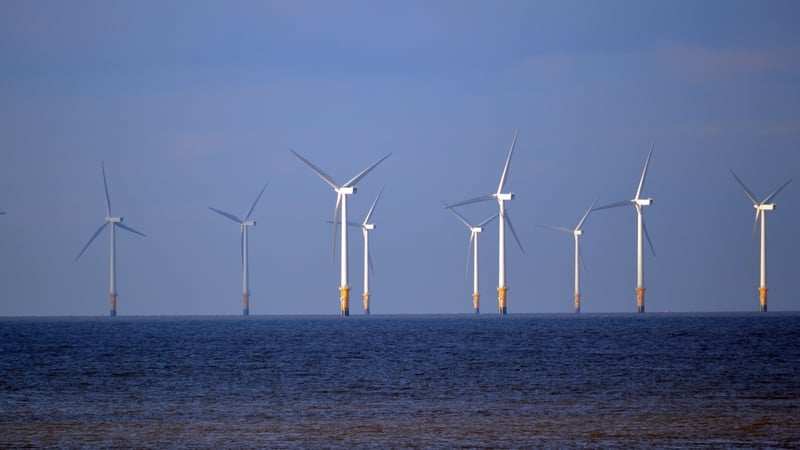 A new report from Wind Energy Ireland has concluded that floating wind energy turbines are key to delivering Ireland's longer term clean energy targets.
Most offshore wind farms are built using 'fixed-bottom' turbines, where the base of the turbine is fixed to the seabed.
However, turbines can also be mounted on a floating platform which is then secured to the seabed by mooring cables and anchors.
These floating wind turbines can be deployed at much greater depths than fixed-bottom turbines, according to the report.
The Programme for Government contains a target for 5,000 MW (megawatts) of offshore wind energy by 2030.
The longer term target is for 30,000 MW off our western coast.
The representative group for the wind energy industry said it believes achieving that target would enable Ireland to not only serve the country's own power needs, but to export enormous amounts of clean energy to Europe.
"While most of the 2030 target will be delivered through existing fixed-bottom turbine technology, a proactive approach from Government is needed to ensure floating wind turbines are in the water before the end of the decade. This would unlock our floating wind potential and kick-start an entirely new industrial sector for Ireland," the report concludes.
The report calls on the Government to carry out environmental surveys outside the 12 nautical mile limit in preparation for floating wind energy projects as well as investment in our port infrastructure to enable them to be ready to deliver and maintain floating wind farms.
"The long-term potential of floating wind energy is staggering. There is enough renewable energy off our southern and western coasts to not only meet Ireland's needs but to also become a major contributor to decarbonising Europe's energy supply," Noel Cunniffe, CEO of Wind Energy Ireland, said.
"The first generation of new, fixed-bottom, wind farms on our east coast can provide the launching pad to develop a new floating wind industry in Ireland," he added.
Source: rte.ie